Do you like a Bengali? Don't know how to break the ice? Follow this link and find out the basics of making a Bong smile and win them over!
If you know (or maybe are attracted to) a Bengali & want to see them smile, look no further for ideas. Here are a few sure fire things to do or say that will have any Bong grinning in no time.
What a sweet language!
Complement the mother tongue (that's Bengali you nitwit!) and they will immediately treat you like a kindred soul.

Bengali food – wah wah!
Now let's move a little down and praise the food – especially if you are a non-veggy! Praise the fish & the curry & the sweets (forget that and you're so screwed!) to see the grin widening.
Poetry/Music/Literature/Movies
Here are a few names for you to hail when around a Bengali – Rabindranath (poetry, songs, paintings, dramas), Uttam Kumar (Acting), Satyajit Ray (You should know this one!), Kishore Kumar(Ye to saara India jaanta hai yaar!). Just pick any of these names and say that he is your favorite in that genre & BOOM, you are in for a long chat over tea about your excellent tastes!
(Superbly cool but hard to pull stunt for the true Bong lover- Just take a print out of the following image and tell them that you always wanted to read this lovely Bong poem. It's a limerick and will immediately result in belly laughs!)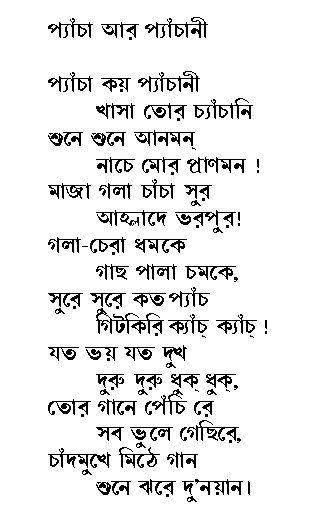 DADA
Just repeat after me – "Dada was the best captain India ever had or will ever have". And the room just lit up with a beaming Bong smile.
Calcutta
Mention College Street, Howrah Bridge, Victoria Memorial & the Hooghly River (Read the Wiklpedia page HERE for more). The bong is now firmly in your zone!
The Bombshells
Be sincere now & express your admiration for the beauty of a true Bengali woman. Please avoid the actresses. Just praise the eyes & the curves & the sultry splendor of a Bong LOLONA (Use that word, it means "FEMME FATALE" in Bengali !).
And thus my friend, you have a Bong friend (girlfriend?!) for life or till the day you make the mistake of saying a single word against any of the above!
Liked this article ? Like our Facebook page so you don't miss any stories from BONGFeed.com
The following two tabs change content below.
Staff Writer & Beer Buyer
at
BONGFeed
Teen Kori (translates to THREE PIPS) is the lazy, laid back, food loving Bong bibliophile who can spend days sitting on his arm chair and doodling or reading while there's a steady supply of colored fluids and music.
Latest posts by Teen Kori (see all)
Comments