Calcutta & Bengalis have always been deeply passionate about football. Bongs take football as seriously as the fish on their lunch plate. And these 7 facts prove that Calcutta is truly the epicenter of football in India.
Club History
Mohun Bagan (dubbed the National Club of India) is the one of the oldest football clubs in the world. Established in the year 1889, it predates global giants like Real Madrid (1902), AC Milan (1899), FC Barcelona (1899) & Bayern Munich (1900).
"Mohan Bagan FC Logo" by Source. Licensed under Fair use via Wikipedia.
Oldest Football League
The Calcutta Football League Started in 1898, is the oldest league in Asia and one of the oldest in the world.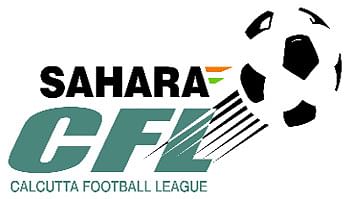 First International player
The first Indian to play abroad was Mohammed Salim, who used to play for Glasgow Celtic. Salim was best known for his role in the fabled 1930s Mohammedan SC team which claimed 5 successive Calcutta Football League titles. And you always thought Baichung Bhutia was the first!
Awesome transfer tactics
If player transfers in world football have caught your eye, then hear this about Bengal football – to stop players from moving to rivals, entire transfer seasons saw players being sent to hide-outs. They were not allowed to be in touch with other teams, the press and even their own family members. That's how seriously we take our football in Kolkata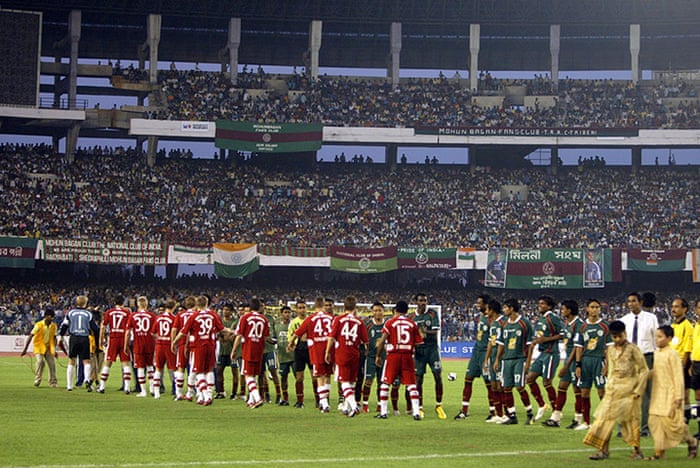 The Salt Lake stadium
Kolkata is home to the world's 2nd largest stadium, the Vivekananda Yuba Bharati Krirangan also known as Saltlake Stadium. A record attendance of 131,000 was set in 1997 in a match between East Bengal FC and Mohun Bagan AC. Now that's called crowd support!
Football for Independence
In 1911, 11 patriots under the aegis of Mohun Bagan club, mostly Bengalis, fought an on field battle with the English side East-Yorkshire Regiment & flattened them 2-1 to win the IFA Shield. The Mohun Bagan players played barefoot while East Yorkshire Regiment played with proper footballing equipment. These 11 bravehearts are still remembered as the IMMORTAL ELEVEN in Kolkata football lore. For honor and with courage!
ISL Winners
The world's most recent footballing extravaganza has been the Indian Super League, with about 1.4 billion spectators watching it round the globe and being the 4th watched league of the world. And we all remember who won right? It had to be ATHLETICO de KOLKATA!
---
Love Kolkata & love football? Share with us your stories of footballing passion!
Liked this article ? Like our Facebook page so you don't miss any stories from BONGFeed.com

The following two tabs change content below.
Ghor Papi
A football manic who is in a relationship with the most romantic football club in the world - Manchester United. President of Kolkata-Manchester United Supporters Club. Working on technology till food can be downloaded from the internet....
Latest posts by Ghor Papi (see all)
Comments