She is the ideal Bengali woman for most of us - a literary genius, an NRB (Non Resident Bong) with strong connections with her Bengali heritage, highly educated and a strong personality. She is Jhumpa Lahiri and she has done us proud again - she will be presented with the National Humanities Medal today at the White House by President Barrack Obama.
How well do you know Jhumpa Lahiri? Here are the top 10 things you must know about one of our favorite Bengali writers in English.
THE IMMIGRANTS – Lahiri was born in London, the daughter of Indian immigrants from the state of West Bengal. Her family moved to the United States when she was two; Lahiri considers herself an American, stating, "I wasn't born here, but I might as well have been." Lahiri grew up in Kingston, Rhode Island, where her father Amar Lahiri works as a librarian at the University of Rhode Island. Lahiri's mother wanted her children to grow up knowing their Bengali heritage, and her family often visited relatives in Kolkata.
DAAK NAAM – Her official Bhalo Naam is Nilanjana Sudeshna. USA TODAY reported – "They appear on her passport and birth certificate, and that's how her parents expected her to be known in school. But the teacher, as Lahiri's parents later told her, wasn't much for formality. She said something like "That's kind of a long name" and decided it was easier to pronounce "Jhumpa." "
GOGOL – Lahiri recalled, "I always felt so embarrassed by my name…. You feel like you're causing someone pain just by being who you are." Lahiri's ambivalence over her identity was the inspiration for the ambivalence of Gogol, the protagonist of her novel The Namesake, over his unusual name. From Wikipedia.
EDUCATION – Here are her credentials – Bachelor's degree in English literature, Barnard College; masters' degrees in English, creative writing, and comparative studies in literature and the arts; doctorate in renaissance studies, all from Boston University. "An absurd number of degrees," she says, but all the diplomas are framed and displayed on her parents' walls. From USA TODAY.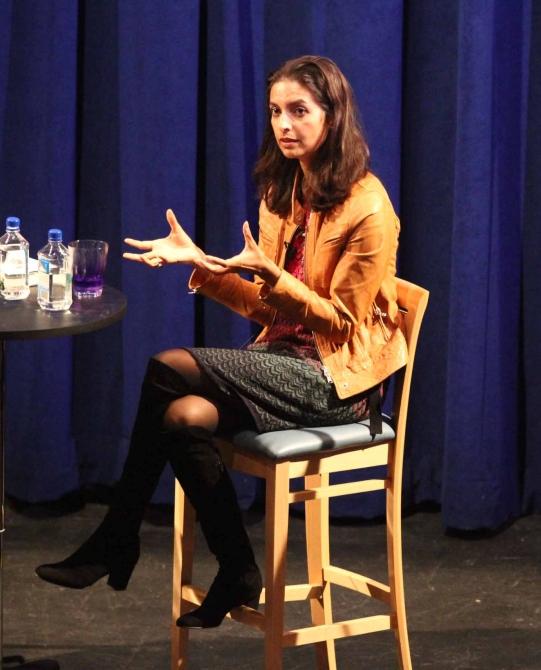 REJECTIONS – Lahiri's debut short story collection, Interpreter of Maladies (1999), won the 2000 Pulitzer Prize for Fiction but only after her early short stories faced rejection from publishers "for years". It was only the seventh time a story collection had won the award.
ON SCREEN CAMEO – A film adaptation of her novel The Namesake was released in March 2007, directed by Mira Nair and starring Kal Penn as Gogol and Bollywood stars Tabu and Irrfan Khan as his parents. Lahiri herself made a cameo as "Aunt Jhumpa".
PROFESSOR – Lahiri is currently a professor of creative writing at Princeton University. She's mentoring the Advanced Fiction course to commence in Fall 2015.
A FITTING PARTNER – In 2001, Lahiri married Alberto Vourvoulias-Bush, a journalist who was then Deputy Editor of TIME Latin America, and who is now Senior Editor of TIME Latin America. Lahiri lives in Rome, Italy with her husband and their two children, Octavio (b. 2002) and Noor (b. 2005). Incidentally, the marriage happened right here in Kolkata, at the Singhi Palace in Gariahat
SMALL SCREEN TOO – Lahiri worked on the third season of the HBO TV program In Treatment. That season featured a character named Sunil, a widower who moves to the United States from India and struggles with grief and with culture shock. Although she is credited as a writer on these episodes, her role was more as a consultant on how a Bengali man might perceive Brooklyn.
THE CITATION –  Business Standard reports – "US President Barack Obama will honour Indian-American Pulitzer Prize winner Jhumpa Lahiri with the prestigious National Humanities Medal in recognition of her enlarging the human story."
Liked this article ? Like our Facebook page so you don't miss any stories from BONGFeed.com
The following two tabs change content below.
Staff Writer & Beer Buyer
at
BONGFeed
Teen Kori (translates to THREE PIPS) is the lazy, laid back, food loving Bong bibliophile who can spend days sitting on his arm chair and doodling or reading while there's a steady supply of colored fluids and music.
Latest posts by Teen Kori (see all)
Comments